St James Episcopal School
|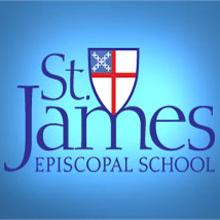 ---
The mission of St. James Episcopal School is to develop each child to his or her fullest potential, spiritually, intellectually and physically, that each may grow in grace, enjoy freedom through knowledge, and lead a healthy productive and meaningful life.

St. James Episcopal School believes that when this mission has been successfully met in its graduates, those graduates will exhibit:
• A thirst for knowledge and creative, self-directed and resourceful patterns for acquiring that knowledge.
• A desire to make the most of educational opportunities, and to set and to achieve priorities.
• An ability to think critically, to discern the worth of information carefully and to understand that academic disciplines   require examination both in depth and breadth.
• An ability to demonstrate the use of organized and habitual skills to approach the learning process (they have learned how to learn) that goes well beyond the skill of memorization.
• Self confidence both in groups and in front of groups as they communicate their ideas and beliefs and will exhibit the self esteem to make personal choices regardless of peer pressure.
• An advanced ability to employ a variety of forms of expression such as written, verbal, artistic, dramatic, athletic and spiritual; and an advanced ability to utilize the tools related to the educational process (ie. paper, writing instruments, technological hardware/software) and to know when it is best to utilize each.
• A visible valuing of the spiritual component to life and the faith in God it engenders, while demonstrating the role that it plays in living a life of balance and in making moral/ethical choices.
• A genuine appreciation for the differences evident within our world and among individuals, and a willingness to participate as good stewards in that broader world through service to others and responsibly using the natural resources entrusted to us.
• A genuine appreciation for the applied arts, fine arts and music, as exemplified through personal participation as well as an ability to react critically to a variety of forms.
• A willingness to accept responsibility for choices made in the areas of personal behavior, intellectual pursuits and spiritual development.