Annapolis Christian Academy
|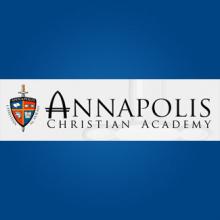 ---
Welcome to the Annapolis Christian Academy website, and thank you for your interest in our Academy!
The name "Annapolis" comes from two Greek words meaning "City of Grace." Our name symbolizes our identity as a community of Christian families committed to the classical and Christian ideals of truth, goodness, and beauty, the cultivation of wisdom and virtue, and the integration of faith and learning.
Our motto is "Passion for Learning, Prepared for Life" and our mission is to support Christian families in the Coastal Bend area by providing educational programs and services aimed at motivating students for life-long learning and preparing them for a life of wisdom, virtue, and service to God and man.
In pursuit of these ideals, we have created a unique environment that fosters faith and promotes high standards of excellence in all areas of life. Annapolis is part of a national and international classical Christian school movement that seeks to educate students for a lifetime of learning, cultural leadership, and virtuous citizenship.
I invite you to explore the world of Annapolis through the information on our website and contact us for an individual tour of our campus.